Upcoming Events
August 5 - Florida fun day. https://floridafunday.substack.com/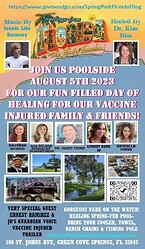 Sept 29 - Washington DC. Operation Truth march. https://twitter.com/homcrn_baker/status/1683382602600775681
---
Doctors and support groups for your country
See the start here guide at the top - the video explains the layout of the Google Sheet and how to navigate the lists of doctors.
Local support groups are good for finding your country's doctors, getting legal information, applying for disability, etc.
NEW! findexpertmd.com has a list of people who have published about SFN. That's one way to find somebody who will diagnose you with SFN.
Treatment resources
See the rest of the resources page at Sick And Abandoned .com.
Tell your story
Censorship-free Platforms
Aside from this forum, there's the Trialsite News group that Cat runs: Covid Vaccine Injury Support Group
X (Twitter) starter pack
Download the app if you're on mobile. Make an account. Then follow people on either of these two lists:
https://twitter.com/i/lists/1623781364330889219 - Small starter pack list
https://twitter.com/i/lists/1612610684868775937 - Big list of chronic illness related accounts
Accounts like HouseLyndsey and C19VaxInjured run a lot of great spaces for the injured. To see if spaces are happening, scroll to the top of the X / Twitter app and they should show up. On desktop, look at the top right.
Participate in research
Join studies that are currently recruiting.
I am currently gathering data on treatments that worked and treatments that didn't - please go here and fill out the survey if you haven't already. The systemic collection of data will provide more reliable and less biased data than what people decide to report on Reddit, because they usually don't bother reporting negative experiences.
Advocacy / Volunteer
See this post for a guide on how to get started with advocacy.
Sick And Abandoned advocacy initiatives are listed here. Anybody can join and help raise awareness about what's happening to us.
Thank you!!!