One of the goals is to help the injured find doctors, resources, and support groups. The graph below shows web traffic to this forum and SickAndAbandoned.com… traffic is off to a great start. It looks like the website will get at least 3,000 users per month.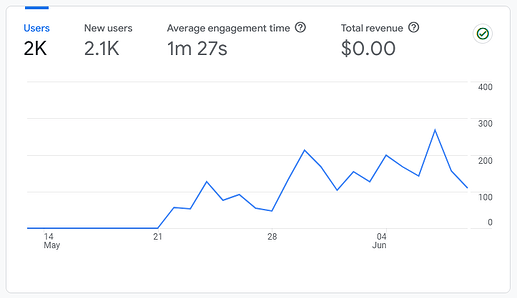 Thank you to everybody who has linked to websites like SickAndAbandoned.com, RealNotRare.com, CanWeTalkAboutIt.org, etc.
Research pipeline - gathering more data on what works and what doesn't
Over 469 of us participated in the last patient survey, which has over 2,600 views on Odysee. Let's band together again to pool our data. We will continue to figure out how to get people their lives back. It's not right that people's lives have been torn apart by chronic illness.
Here's the link to the survey post.
I'll also need help promoting the survey when I'm ready to blast it out. If you know how, change the pre-filled link so that the pre-filled entry for "How did you find out about this survey?" is something unique.
---
Thank you to everybody who has contributed, even if it's something small like taking a few minutes to fill out a survey.