The paper is here: https://n.neurology.org/content/neurology/early/2023/04/25/WNL.0000000000207337.full.pdf
Neurologic Complications With Vaccines: What We Know, What We Don't, and What We
Should Do
It's full of questionable information. IVIG and corticosteroids don't work anywhere as well as what Nath has claimed in the past. They may have limited usefulness but they are far from being the answer for vaccine injury.
"immunotherapies would be a reasonable treatment option"
The paper states:
In fact, several case reports and case series seem to support this approach.12,23
Reference 12 refers to a paper by Safavi, Nath et al. (DOI:10.1101/2022.05.16.22274439) where they claim that their patients magically recovered following treatment with IVIG or corticosteroids. 3 patients treated by the NIH have gone public to dispute the claims in the Safavi et al. paper- see this Rumble interview.
Reference 23 doesn't exist. However, it likely refers to reference 24 (DOI:10.1002/mus.27696), which is a case study on co-author SB. If you're a member of the autoimmune support group, you can see SB's comments here which mention a relapse. Nath may be unaware that this patient (SB) did not experience lasting benefits following PLEX.
Immunotherapies may turn out to be a mediocre treatment option but they aren't very good. While people are recovering, I have yet to find somebody who recovered from IVIG or corticosteroids.
Survey data
I do have survey data on the 2 treatments tried by the NIH. Over a hundred people tried corticosteroids. While some of them recovered, none of them rated corticosteroids as leading to significant improvement. 17 people tried IVIG, none of them are (mostly) recovered. It doesn't look like these treatments really worked for a single person. However, we don't quite have enough data on IVIG to say that it doesn't help.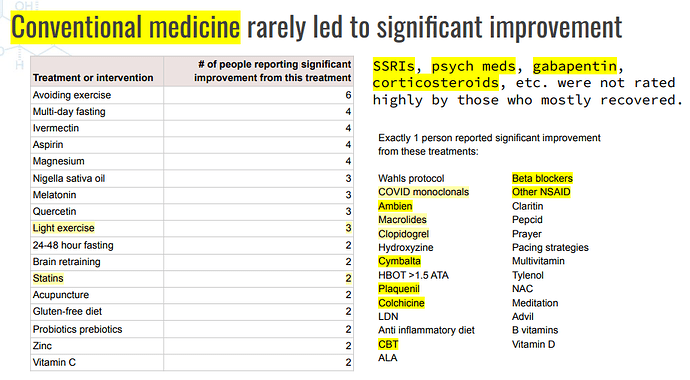 Nath claims that neuro adverse events aren't picked up by safety monitoring
Part of the reason is that VAERS intentionally removes legitimate VAERS report. Clinical trial participant Olivia Teseniar (Camron) filed a VAERS report. Her public VAERS report was removed from the public database.
https://medalerts.org/vaersdb/findfield.php?IDNUMBER=896636&WAYBACKHISTORY=ON
The other issue is that vaccine injury isn't just neurological problems. It is a multi-symptom syndrome where there is a long list of things that are wrong with us. We all seem to draw from a common pool of symptoms with each person getting a unique combination of symptoms. And those symptoms can change over time, with some going away and new ones showing up. (To be fair, Nath is publishing in a neurology journal.)
"an unvaccinated population will remain the biggest threat to all public health measures with grave consequences"
The paper ends with that line…

What we know is that vaccine injury resembles other vaccine injuries (e.g. Gardasil), Long COVID, and ME/CFS. The idea that vaccines cause more good than harm is questionable.
Thanks Janet Woodcock and Peter Marks at the FDA
for "carefully reading the paper and for helpful comments"